CS-PT471
Level Transmitter
● Silicon resistance sensor,● The leads are non-polar,● Over voltage and Reverse protected ,● High accuracy ,● IP 68

Scan QR code for more information
Call the company number
+86-29-88325620
CS-PT471
Product Introduction
Technical Parameters
Model Selection Guide
浏览过的产品
Description
The model CS-PT471Level transmitter for general purpose is the ideal solution for price sensitive industrial applications.
The model CS-PT471 offers continuous measuring ranges between 0 ... 3 m H2O and 0 ... 50 m H2O.
It has been designed to the current demands of the industry and has 0.5-4.5V or 4-20mA output as standard, an accuracy of 1.0%F.S and PE cable. With IP 68 ingress protection, it is suitable for measurement level up to 350 m H2O.
Features
● Silicon resistance sensor
● Output 0.5-4.5VDC、4-20mA
● Ingress protection IP 68 permanently up to 350 m water column
● Over voltage and Reverse protected
● Low cost
Applications
● Level measurement in rivers and lakes
● Deep well and groundwater monitoring
● Level measurement in vessel and storage systems
● Monitoring of sewage, settling and storm-water retention basins
Performance specifications
Test condition, Temperature: 20±2℃, power supply 12VDC/5VDC, relative humidity 45%~75%, ambient atmospheric pressure: 86KPa~106KPa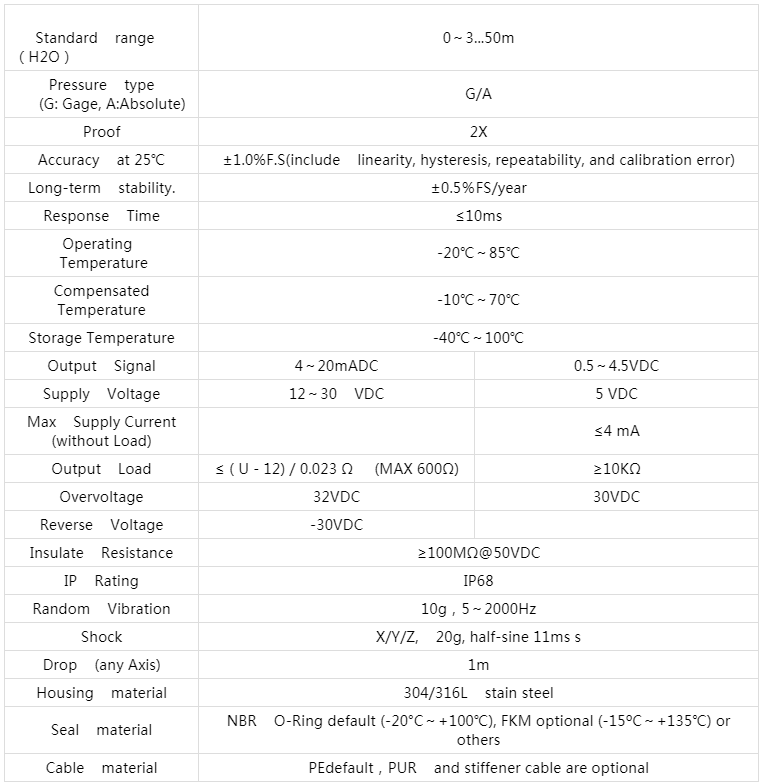 Structure and Dimension (mm)

Electrical connection

4HY-133压力变送器是采用陶瓷材料经特殊工艺精制而成的干式陶瓷压阻压力传感器,陶瓷是一种公认的高弹性、抗腐蚀、抗磨损、抗冲击和振动的材料。陶瓷的热稳定特性及它的厚膜电阻可以使它的工作温度范围高达-40~135℃,而且具有测量的高精度、高稳定性。电气绝缘程度>2kV,输出信号强,长期稳定性好。高特性,低价格的陶瓷传感器将是压力传感器的发展方向,在欧美国家有全面替代其它类型传感器的趋势,在中国也越来越多的用户使用陶瓷传感器替代扩散硅压力传感器。
HY-133干式陶瓷压力传感器被广泛地应用在:过程控制、环境控制、液压和气动设备、伺服阀门和传动、化学制品和化学工业及医用仪表等众多领域。它的尺寸小,直径18mm,量程范围1~500bar,价格低,被广泛的应用在各种测量压力的场合。
HY-133压力变送器是采用陶瓷材料经特殊工艺精制而成的干式陶瓷压阻压力传感器,陶瓷是一种公认的高弹性、抗腐蚀、抗磨损、抗冲击和振动的材料。陶瓷的热稳定特性及它的厚膜电阻可以使它的工作温度范围高达-40~135℃,而且具有测量的高精度、高稳定性。电气绝缘程度>2kV,输出信号强,长期稳定性好。高特性,低价格的陶瓷传感器将是压力传感器的发展方向,在欧美国家有全面替代其它类型传感器的趋势,在中国也越来越多的用户使用陶瓷传感器替代扩散硅压力传感器。
HY-133干式陶瓷压力传感器被广泛地应用在:过程控制、环境控制、液压和气动设备、伺服阀门和传动、化学制品和化学工业及医用仪表等众多领域。它的尺寸小,直径18mm,量程范围1~500bar,价格低,被广泛的应用在各种测量压力的场合。