Electric Power Manhole Cover Movement Monitoring System
With the development of city, various types of pipelines are used, which leads to the increasing need of manhole cover. According to different applications, there are different manhole covers. However, abnormal movement or missing of manhole cover bring much inconvenience even hidden safety dangers to our life, like missing of manhole cover, underground fire, cable stealing, people falling into the well. So the use of different types of manhole cover monitoring terminal, can monitor the real-time situation (e.g. manhole cover movement, gas leakage, smoke alarm). All the data gathers in the smart cloud management platform and is analyzed and calculated by the big data. Then we can position the abnormal manhole cover, and send orders to maintenance staff. The maintenance people will execute the maintenance order from the system. With the help of position navigation, they quickly go to the place and complete maintenance. In addition, the camera can also send the abnormal manhole cover situation to the system, so that staff in monitoring center can timely get the abnormal information.
System Characteristic
Real-time monitoring
Monitor the real-time status of manhole cover, gas leakage, and smoke alarm.
Collaborative with cameras
Alarm and send maintenance order
Upon receiving an alarm, the system will automatically send a maintenance order to maintenance staff.
With the help of position navigation, the maintenance staff can quickly reach the position and complete maintenance.
Collaborative with cameras
On-site situation obtained timely using cameras.
System Composition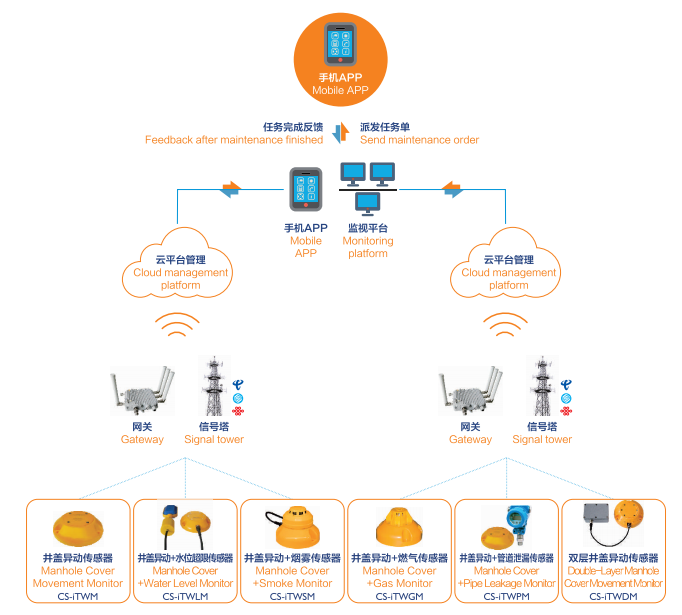 Hardware Equipmen
Manhole Cover Movement Monitor
Communication Protocol : NB-loT
Power Supply: 19AH Lithium battery
Standoy Time: >3 Years (19AH )
Frequency Band Support: B1/B3/B5/B8/B20/B28
Protosl Suppod : UDP/TCP/COAP
Working Temperature : -40c ~+85C
Protection evel: IP68
Installation Meihod:Integrated
Software System
Smart Street loT System Software
Data acquisition and storage
Online data analysis and alarm
Administrator purview management
Various data report output
Project Information
Customer
Xi'an High-tech Zone Municipal Administration Bureau
Project Location
Xi'an High-tech Zone