When traveling on business and leisure, God talks about the sensor (96)
The first half of 2023 has passed in front of us without a word, and the economy continues to improve, but it is slower than most of us expected. as the Chinese saying goes, "illness comes like a mountain, but goes away like a silk." it is as if the Chinese economy has suffered a serious illness for three years. The conflict between Ukraine and Russia continues to affect the world economy, and it is hard for China to escape. Americans, duplicitous, on the one hand, strengthen communication and increase exchanges.
However, the sanctions or sanctions, whether to suppress or suppress, the impact on China's economy should not be underestimated.
Against this background, the 2023 Smart Sensor Industry Development Conference was held in Baoji, the birthplace of China's silicon-based pressure sensors, hoping to give a fire to China's sensor industry, Shaanxi sensors and the Internet of things industry chain. Beat a drum!
Today, many leaders of Baoji City in Shaanxi Province attended the sensor promotion conference in the morning, hoping to build a sensor capital in western China.
Beibei District of Chongqing in the western region and Deyang City of Sichuan Province are also making efforts to build the sensor capital of western China according to their own advantages, and the competition of the sensor capital of the west presents a triangular competition.
From a personal point of view, Chongqing has a "Chuanyi Co., Ltd." with sales of more than 4 billion yuan in 2022, one of which is dominant; Baoji has a sensor output value of 3 billion yuan in 2022, fighting together; it is weaker than Deyang, but they are a national famous industrial base with a large number of sensor application scenes.

In today's conference speech, in addition to emphasizing the importance of sensors, the fusion of artificial intelligence and sensors or artificial intelligence as the basis of sensors has been mentioned by many experts, as well as with the progress of technology, sensors have also been given more connotation.
In particular, intelligent sensors, to some extent, and artificial intelligence, the Internet of things have been inseparable from each other.
Technological development also interacts with each other, enhances each other and complements each other.
The domestic sensor conference is almost inseparable from the promoter of the Chinese sensor, Mr. Guo Yuansheng, who is skilled in modern society. He also sent a video from far away, which can be regarded as an encouragement to Baoji's hometown.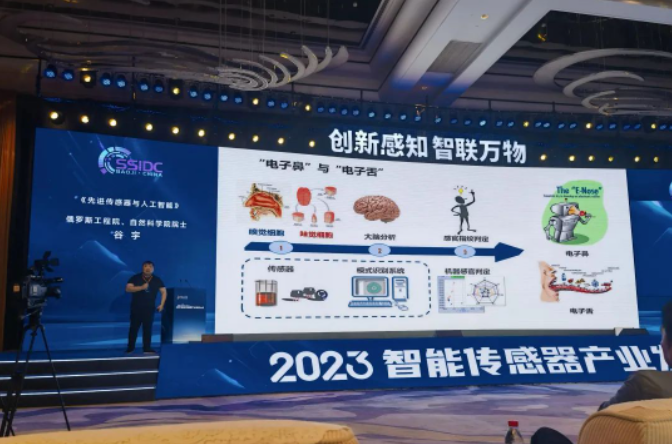 For the first time, I met my brother's keynote speaker, Academician Gu Yu, who talked about the domestic government's view of the sensor industry, which is "important and important."

Academician Gu's research on many aspects of gas sensors and his practical contribution to industrialization are still admirable.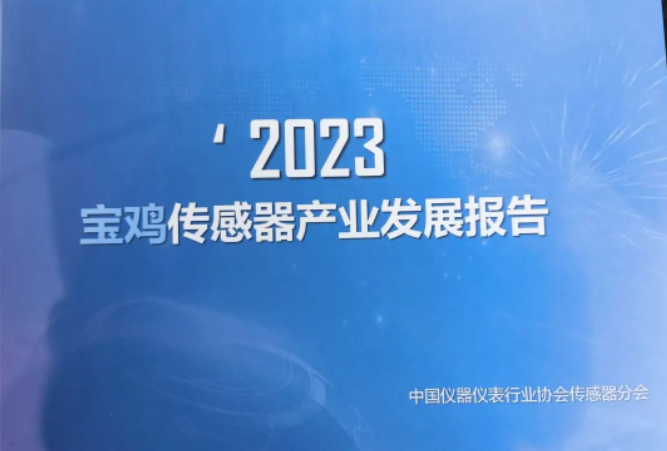 Zhang Yang, Secretary General of Sensor Branch of China instrument and Watch Association, made the 2023 Baoji sensor industry development report, which not only described the current situation of Baoji sensor.
It is also the epitome of the current situation of China's sensor industry.
The vice chairman of the Shaanxi Provincial Committee of the Chinese people's political Consultative Conference (CPPCC) Gaoling, who is also the "chain length" of the Shaanxi sensor industry chain, Huang Xinbo, deputy director of the Shaanxi Provincial Department of Industry and Information Technology, respectively analyzed the current situation of the Shaanxi sensor industry, as well as the planning and prospects for the development of the sensor industry in Shaanxi Province.
It jointly expresses the importance that the Shaanxi provincial government attaches to the sensor industry chain, and classifies the sensor industry and the Internet of things industry as the big category of the new generation information technology industry.
Friends from other places who attended the meeting told me that it seems that there is a great hope for Shaanxi to develop the sensor industry, and I also hope to work with my counterparts in Shaanxi to promote the development of China's sensor industry.
In the face of Baoji Media, as the practitioner of Shaanxi sensor and the chairman of Shaanxi Internet of things Industry Alliance, I also have full confidence in Shaanxi and even Baoji to develop the sensor industry. I hope that the local authorities will seriously listen to the suggestions of all experts. Combined with their own local actual situation, do practical work, seek truth from facts, enhance their strengths and circumvent weaknesses, and give full play to the local relative advantages, from the two major aspects of the technology industry.
Really push Shaanxi's sensor industry to China's first-class level.
Who doesn't want his hometown to be good!
This is from the bottom of my heart, too.

Due to physical discomfort, it may also be "Eryang".
After attending the council of the Sensor Association in the afternoon, I hurriedly left Baoji after chatting with colleagues from Shanghai, Beijing, Shandong, Shenyang, Shenzhen, Hunan, Zhejiang, Sichuan, Harbin and other places. Now I am sitting on the high-speed railway from Baoji to Xi'an.
Xi'an North Railway Station has arrived. I will get off soon, and this article ends in a hurry.

# 2023.07.04.17:58 G2022. Baoji / Xi'an #